Microsoft SQL Server 2016
Hi friends in this post we will discuss about Microsoft SQL Server 2016. Here we will discuss about SQL Server 2016 features, Download link etc.. Microsoft had just launched Microsoft SQL Server 2016 for Public, now anyone can download public Community Technology Preview (CTP2) for SQL Server 2016 from here  https://www.microsoft.com/en-us/evalcenter/evaluate-sql-server-2016.
This public preview gives an early look into many of the capabilities & features of Microsoft SQL Server 2016, also this allows early adopters to get engaged and do testing the preview in their environments or via a virtual machine in Microsoft Azure.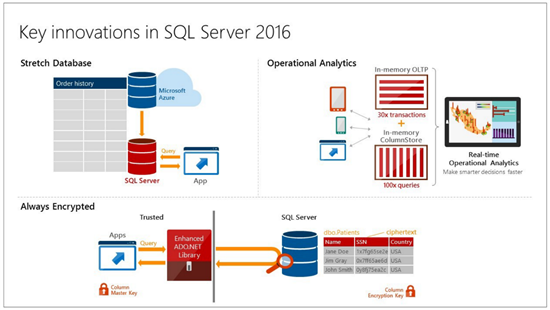 Image copyright @ Microsoft.com
8 New feature of Microsoft SQL Server 2016:
In-memory performance provides up to 30x faster transactions, more than 100x faster queries than disk-based relational databases and real-time operational analytics.
Always Encrypted, Row Level Security and Dynamic Data Masking.
Stretch Database technology keeps of your customer's historical data at your fingertips.
Enhanced Database Caching.
Business insights through rich visualizations on mobile devices with native apps for Windows, iOS and Android.
Manage relational & non-relational data with the simplicity of T-SQL with Polybase.
Faster backups, high availability and disaster recovery scenarios to back up and restore.
Native Json support.