How To Use Ctrl + Tab To Switch Between Tabs In Recent Order In Internet Explorer
Internet Explorer 8 and 9 lets users to use the Ctrl + Tab combination to switch between tabs quickly.Many users want to use combination to switch tabs in recent order.
1. Launch IE 8 or IE 9.
2. Click on the Tools In IE8 and small gear icon on IE9 on the top right of the program interface, and then go to Internet Options.
3.Now go to the Advanced tab.
4. Scroll down to the Settings section, and put a check next to the Use most recent order when switching tabs with Ctrl + Tab option.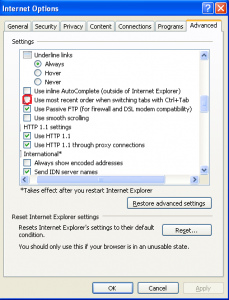 5. Now, click OK to save the setting. Enjoy!!!