How to Jailbreak iOS 7.1.2, iOS 7.1.1 and iOS 7.1
Hi friends, in this post we will learn How to Jailbreak iOS 7.1.2, iOS 7.1.1 and iOS 7.1. iOS jailbreaking is the process of removing limitations on iOS, Apple's operating system on devices running it through the use of software and hardware exploits. Jailbreaking permits root access to the iOS file system and manager, allowing the download of additional applications, extensions, and themes that are unavailable through the official Apple App Store.
Note: Jailbreaking will void your warranty.
Supported Devices:
iPhone 5s, iPhone 5c, iPhone 5, iPhone 4S and iPhone 4
iPad Air, iPad 4, iPad 3, iPad 2
iPad mini, Retina iPad mini
iPod touch 5G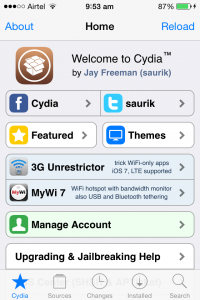 Steps:
1. Disable the passcode as the jailbreak fail, if the passcode is enabled (Settings > General > Passcode Lock On > Turn Passcode Off).
2. Backup your device on iCloud or on your system before proceeding further.
3. Update itunes to latest version.
4. Download the latest version of Pangu jailbreak for Mac or Windows from this page.
5. Run this as administrator, a screen will appear, Click on Jailbreak button.
6. Follow the on-screen instructions. The app will ask you at one point to set your iOS device to June 2nd. To do this, go to Settings > General > Date & Time.
7. After date change, it will restart the process and install Pangu app on your device.
8. Tap on the Pangu app on the Home screen of your device when prompted to continue with the jailbreak process. You will get a warning message. Tap on the Continue button to continue with the jailbreak process.
9. Wait for your device to reboot several times. After a few minutes you should see that you have Cydia on your home screen.
Video Tutorial: