Enable Audit Policy in SAP Hana
Auditing feature in SAP HANA databases allows you to monitor and record selected
actions performed in your system. In simple words, it provides us the feature of who did
what and when. In this post we are going to discuss about how to Enable Audit Policy in SAP Hana.
Enabling audit policy facilitate us with audit logging of critical system events. Both successful and unsuccessful events are logged. By default audit logging in SAP Hana is not enabled. To enable Audit policy in SAP Hana, we can use SAP Hana Studio or SAP Hana Cockpit.
To demonstrate SAP Hana Audit policy functioning we are creating a audit policy records read access on table HIGHTECHNOLOGY.Products(HIGHTECHNOLOGY is schema) and using Database table as audit trail target(to save logging events).
Enable Audit Policy in SAP Hana Studio:
Step1) Open SAP Hana Studio, Go to Administrator perspective.
Step2) Expand Security and double click on Security.
Step3) Now go to Auditing tab.
Step4) On Global settings section, Select Auditing Status > Enabled and select Audit Trail Target as Database Table.
Step5) On Auditing Policies Tab, click on + icon and provide following details as mentioned in below image.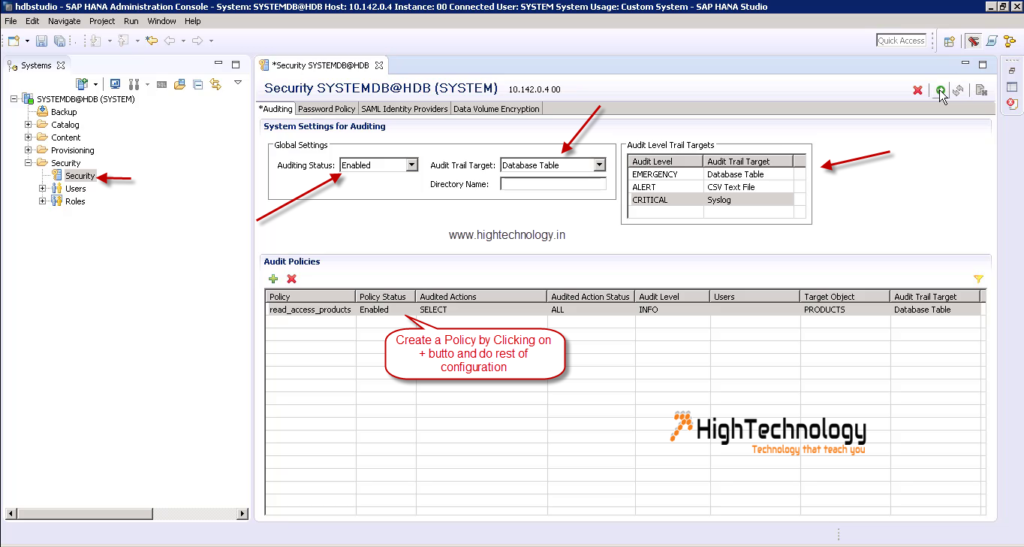 Step6) Click on Deploy icon or press F8, and our audit policy is created and in force.
Video Tutorial: